Rafael Nadal-Parera was born on 3rd June, 1986, in Manacor, Mallorca.
His parents, Sebastian and Ana Maria introduced him to tennis at a very young age and he played his first championship tournament at the age of 8 years old in Baleares.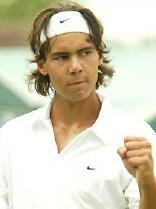 Nadal has a very strange technique, he is actually right-handed but plays left-handed and has double handed backhands.
He turned professional in 2001 at the age of 15 and won his first ATP match, defeating Ramon Delgado to become only the ninth player before his 16th birthday to do so.
His hero is Carlos Moya, his coach is his uncle, Toni Nadal and he is managed by Carlos Costa.
2005 proved a pivotal year for Nadal. By May 2005 he had made it into the top 5.
By the autumn of 2005, Nadal had won a further 10 singles titles (to add to his one in 2004) including 3 ATP Masters Series events and 1 Grand Slam title with a 72-10 match record - second only to Roger Federer.
In early 2005 he won 24 matches in a row, breaking the record for the longest winning streak of a teenager, beating Andre Agassi's run of 23 matches in 1988.
In his French Open debut, he won his first Grand Slam event, beating Federer in the semi-finals on his 19th birthday.
In 2005 at Wimbledon, Nadal was seeded 4, but crashed out in the 2nd round to the Luxembourg player, Gilles Muller. He was eliminated in the third round of the 2005 US Open in Flushing Meadows, New York, by American James Blake.
Rafael Nadal has a fantastic record on clay courts. In May 2006, his defeat of Roger Federer to win the Rome Masters meant that he equalled the record of consecutive 53 wins on clay. His next match - victory over Robin Soderling in the first round of the French Open ensured that he overtook Argentina's Guillermo Vilas 1977's run and had the record to himself.